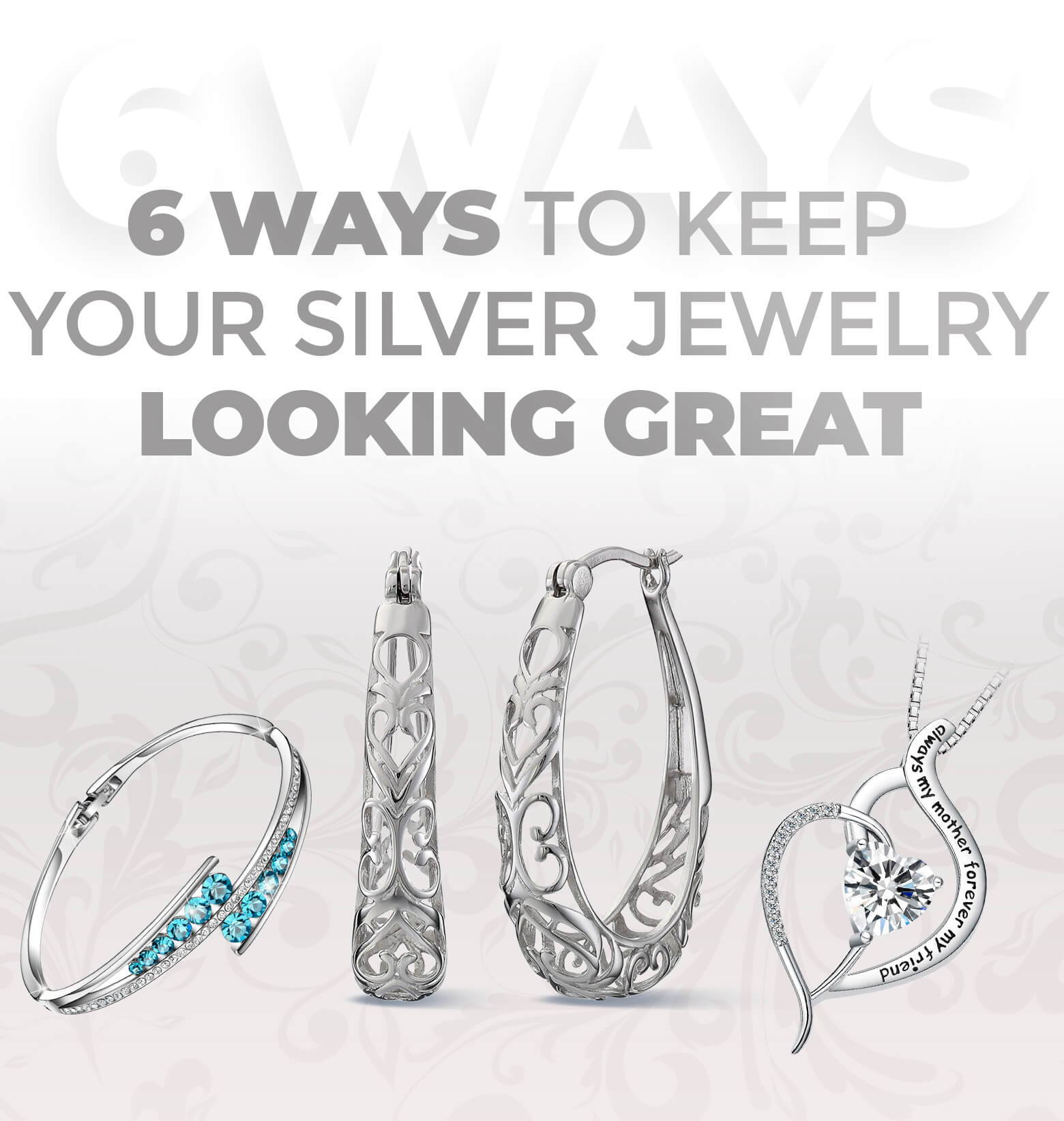 SIX WAYS TO KEEP YOUR SILVER JEWELRY LOOKING GREAT
Different issues can trigger silver jewelry to tarnish. Clean a silver ring the wrong way and you can end up with an even more tarnished ring. Silver tarnishes when it's exposed to various chemicals and air pollution. Constant wear and tear is another way silver can quickly get dirty and stained. When you expose your silver to chemicals often, it's more likely to erode over time. Certain methods like corrosion, metallic abrasion, and other compounds can expedite the tarnish.
One way to avoid cleaning tarnished jewelry is to buy high-quality products. At 24 Style, a jewelry company loved by women over 45, we sell high-quality jewelry that's 925 Sterling Silver, so you'll be sure to have pieces in good condition for longer.
If you're wondering how to clean sterling silver, and how to clean sterling silver at home, you're in luck. In this article, we'll share some advice on how to limit tarnish on your items. And we'll go over ways to clean, polish and maintain your silver.
How are you storing your jewelry? Is it safe? Avoid plastic bins, rubber, and plastic bags that are high in chemicals like sulfates. Exposure to these bags and poisons will depreciate your jewelry over time.

The best place to store jewelry over time is in dry, closed spaces. Consider 24 Style's leather jewelry box sold here and if you're on the go, opt for our leather jewelry travel case. Each item is designed for jewelry enthusiasts for easy removal and safe, clean storage. With the jewelry box and travel case, you're giving your silver a dry home free from moisture. The boxes protect your jewelry from chemical exposure so it can last for years to come.
2. Chemical Exposure is a no-no
Tarnishing is not 100% preventable, as it comes into contact with oxygen whenever you wear it outside the house. However, you can clean your silver jewelry after use to slow down the tarnishing process.
There is a particular way to clean your jewelry pieces. For example, you can use warm water and dry them with a soft cloth. Whenever you shower, sleep, wash dishes, exercise, cook, or work outside, remember to take off your jewelry.
3. Say bye to tarnish-inducers
Certain items will prolong your jewelry's tarnishing phase. It's helpful to remove items like newspapers, open sulfur containers, and perfumes. Empty containers have a chance at affecting jewelry's physical condition.
4. Store Each Silver Piece Separately
Want to know how to clean silver without baking soda? Well, it's simple. Avoid cleaning altogether by storing earrings, rings, and necklaces in separate areas. If you put them all together in one place, the probability they'll scratch is much higher. When you travel, take the travel box from 24 Style, and at home, use our leather jewelry box for perfect separation between pieces. Storing it in a cool and dry place, and away from direct sunlight, will help extend your jewelry's shelf life.
5. Dry up the space with chalk
Surprisingly enough, sticking a piece of chalk in your jewelry box with your pieces can actually keep the box even dryer. Chalk is a natural moisture absorbent item that can get rid of dampness and chemical residue from silver.
6. Anti-Tarnish Cloths to the rescue
You may not have time to clean your entire jewelry box with warm water or polish. That's alright because there are anti-tarnish cloths that can clean them better than water. They're known to suck out all the oxygen from the air and sulfur and deliver dryness to your jewelry that will prolong its silvery exterior. Simply wipe your silver jewelry and store them away. No major clean-up is necessary.
Still wondering aloud: "How to clean sterling silver chain?" "How to clean sterling silver in general?" "How to clean sterling silver necklace without baking soda?"
We understand. Silver is a highly versatile and beautiful metal. It takes work over the years to maintain its shine and glow. There are so many ways to prevent the silver from tarnishing–the above are just a few. If you're interested in preserving your silver before it decays, you can purchase a leather jewelry box at 24 Style that includes three trays for the perfect amount of space and organization. No more lying your jewelry around your desk, or simply putting it in baggies.
Let your silver last long enough to pass down to the next generation with a sturdy jewelry box. You deserve it and so do those hoops. Limit items from exposure to sulfur and high humidity when you're traveling–they're even more susceptible on the go!--with our exclusive leather travel box. Four necklace hooks, six earring slots, and a ring holder that can fit at least 6 rings. It's the only one of its kind that's versatile and high quality. Try it before your next trip.