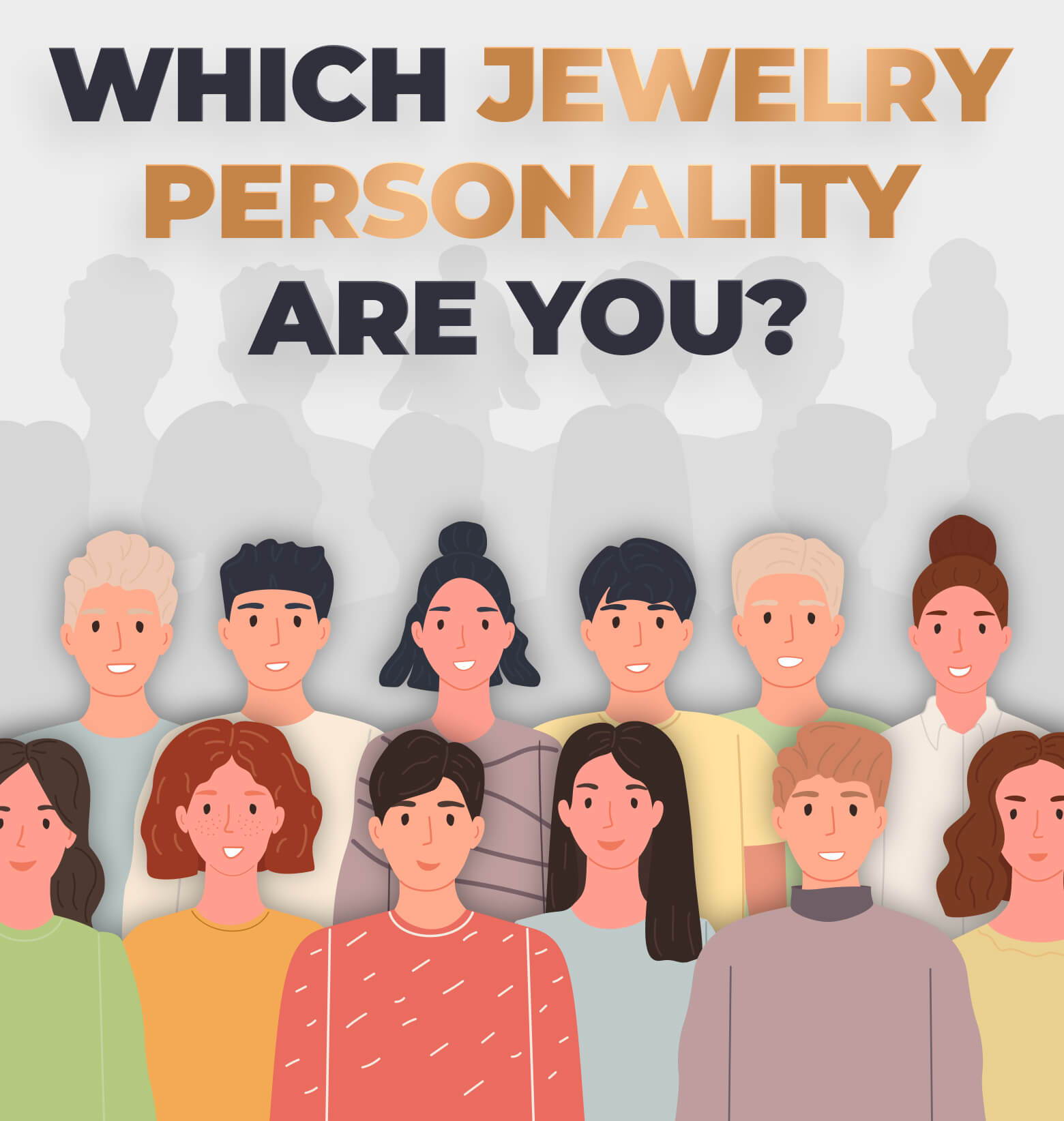 How to Determine Your Jewelry Personality
Your choices are what define you when it comes to your style. Jewelry is one of those many decisions that can make a statement about your style, individuality, and personality. Shopping for jewelry can be overwhelming when it comes to the many trends and aesthetics out there.
There's so much more to choosing jewelry than simply picking pieces based on color coordination or trying to keep up with current trends. You want to be able to select pieces that represent you authentically as a person and make you feel good.
Your approach to choosing jewelry can help you better define your personal style by identifying your jewelry personality. These popular jewelry personalities are some common styles that can help you make better choices that reflect your personality. Read on to learn about which jewelry personality you are.
You like a simple look without too much attention drawn to your accessories or style, but still like a little shine and sparkle. You're likely well organized, with a lot of thought put into the purchases you make, and you make them with intention. You only buy pieces you know you will love and enjoy for years. The simple yet elegant Solitaire Birth Crystal necklace with Swarovski Crystals can help you achieve a minimalist look with a bit of meaning behind it. You can wear your birthstone or choose a birthstone of someone special to you.
Elegant, Sophistication, and Class
With the elegant jewelry personality, you prefer classically sophisticated and effortlessly refined pieces. You appreciate the finer things in life and are always on top of what's trending. You love wearing outfits that are well put together by popular designers and are of exceptional quality. Your style radiates timeless classics along with an elegant and contemporary feel. Your jewelry choices are made carefully, and the Pearl Earrings with authentic Swarovski Pearls are perfect to fit your aesthetic.
You're professional in every sense of the word. You understand your role in this world. You know your strengths and are incredibly organized and successful. Choosing jewelry that defines your professional style includes classic and simple yet timeless pieces. The Pearl and Crystal Necklace is an elegant design crafted with Swarovski Pearls and Swarovski Crystals you can confidently wear to the office or out to a business dinner. It can enhance your professional style and add a beautiful touch to any outfit.
Are you active, fun, bubbly, with an adventurous personality? You're likely always cheerful and have a lot of great friends because people enjoy being around you. You love pieces that draw attention, are eye-catching, and are unique. You love bold and bright colors that showcase your personality through fashion. You'll want to choose jewelry pieces that are colorful, big, and bold. These cute Cherry Earrings are just the perfect piece that accentuates your adventurous personality and gives you a "wow" factor.
If you're more of a relaxed and caring person who cares about people and the environment, you likely gravitate towards unique and sustainable jewelry. You love pieces that not only can spark conversation but have a deeper meaning behind them. The Northern Lights Bracelet is made with incredible unique Swarovski Crystals inspired by the Northern Lights. The crystals have a fantastic light-catching effect that can cause them to change colors reminiscent of Aurora Borealis.
For the trendsetter, you don't conform to the trending styles and aren't afraid to wear something bold, unique, and fun. You probably love to shop at thrift stores or vintage shops to find classic one-of-a-kind pieces that were once loved years ago. If you're a trendsetter, jewelry is more like art, and every piece tells a story. For you, the Aurora Borealis Crystalline Earrings are inspired by natural crystal formations and fissures found in the earth. The tiny incisions capture and scatter light brilliantly and have the classic antique look you love.
You love simplicity in life and are calm, focused, and confident. You likely prefer not to overcomplicate things. Your jewelry choices gravitate towards pieces that have traditional values that can go with just about any outfit. You'll look perfectly put together no matter where you are with the Stackable Crystal Rings made with Swarovski Zirconia Crystals. You can wear these individually or as a stack, whichever suits your style and mood.

No matter which jewelry personality fits you best, you should know that you can wear whatever calls to you and makes you feel confident. You can stick to one style or switch it up to create excitement and be bold. When expressing yourself through your style, it's most important to be yourself and enjoy your choices.